Messages from Tony
Mar / Apr '08
2007 Update Aug / Sep / Oct / Nov / Dec '06 May / June / July '06
April '06 December '05 / January '06 November '05
August '05 April '05, Part Deux April '05
December '04 November '04 October '04
October '03 June '03 Tour Thoughts
The Licensing Bill JY Band Tour Etc.
Late 2002 Gigs and Frisky
10/04/08 - Mar / Apr '08
It has been some time since the last update on TT, but this does not mean he has been completely idle. (Almost, but not completely :) )
The end of 2007 was very busy, with bookings for the Function band Frisky, lots of Christmas Parties and the residency at Ipswich Town Football Club for the second year running, culminating in the Ipswich Town Staff Party, with much fun and hilarity.
2008 does not look like being a quiet year on the music front! TT got a drum kit for Christmas (I must be mad) and he has spent many happy hours re-discovering his love of drumming. He is however sticking with the keyboard for gigging :)
After many months of rehearsals with a very talented female vocalist, TT is looking forward to many duo gigs over the coming year.
Work with Purple Rain, the Prince Tribute Band is going from strength to strength and the band is booked to play at Butlins for several weekends during 2008. As well as this, they are travelling around the Country making a name for themselves on the tribute band circuit. If you like the music of the diminutive purple funkster, then they are definitely worth seeing. In fact, if you are a fan of live music, played extremely well, they are worth seeing. Several non-believers have been converted after being convinced to attend a gig: http://www.myspace.com/jimilovefunk
Songs from the Blue House are releasing 'Don't Fear the Reaper' as a single in May, with a launch gig on the 23rd May at The High Barn, Great Bardfield. An excellent twist on a rock classic! http://www.myspace.com/songsfromthebluehouse
Tony is also working with Nick Zala, an amazing pedal steel player on a couple of projects (more information to follow): http://www.pedal-steel.co.uk
Tony's dog training skills are coming along well and our tiny puppy is now HUGE and a bundle of complete madness, but keeps us smiling and active.
Tony will once again be turning his hand to teaching over the coming year, with another Rock School during the School Summer Holidays.
As well as all this, work continues on his many solo projects.
So, if you fancy catching up with TT, check out his MySpace and the MySpace pages of the many projects he is involved in, to see what he is up to and when.
I will make no promises of more regular updates, as we are both proving to be really rubbish on this front and therefore I will do what I can, when I can, to keep everyone informed of goings on.
Diane & Tony T
Back to News Index
24/09/07 - 2007 Update
Despite being at home and not out on the road, TT still has not had time to put fingers to this kind of keyboard and update you on his comings and goings, so it's me again.
So, where did we get to? Ah yes, the studio had been built and was up and ready for action... Well, it has been very well used over the past 8 months with Tony working on another Piano album, more of the TT project work and also a private commission re-working an existing album and sprinkling the TT magic over it. These albums will hopefully be finished by the end of the year, but with most weekends now booked until January '08, maybe not!
He has also recorded an album with Songs from the Blue House called Tree and August saw the launch of the album. Check out their website or myspace, they are really good and the album is a regular in my car stereo: http://www.myspace.com/songsfromthebluehouse
Work has continued with the Function Band, Frisky and TT has been suited and booted for many a wedding this year. They will once again be resident band at Ipswich Town Football Club for this year's festive season.
Work with the Prince tribute band Purple Rain has been flowing in and with a trip to New York planned with them next year, things are getting busy there too: http://www.myspace.com/jimilovefunk
July saw the return of Ipswich Music Day and TT only did 2 stages this year, but he finished on one at 4.45pm and started on the next one at 5.00pm. So it was with much amusement we saw him 'running' through the park and a little less amusement when he told me I would have to set up kit on the second stage! Thankfully, when he arrived the stage was running late and he had chance to catch his breath and I was saved the set up :)
Tony also launched his teaching career this summer, when he was one of the tutors at a Summer Rock school. 4 days working with youngsters from 6 years to 15 years, some with no previous musical knowledge or experience, gave him an insight into music he had not seen before :) He was brilliant and a huge hit with the youngsters. The week ended with a 'gig' for parents that many a pro musician would have been proud of.
And here we are in September and he has been busy with another project altogether. We became the proud owners of a Great Dane pup, who is nearly 10 weeks old now and so TT has been learning how to train a dog too.
So, all in all a busy, but very enjoyable, few months.
Thanks to everyone for their continued support,
Diane & Tony T
Back to News Index
18/12/06 - August, September, October, November & December News!!!
I know, I know, I said it would be September and here we are in December, but life seems to get busier and the days seem to get shorter each week.
Tony has been almost too busy to keep up with the second half of the year. He has done numerous Fish gigs and now the end of the Return to Childhood Tour has arrived. During this time there has been a Brilliant Convention in Haddington, and some very memorable closing gigs. Photos of the Final Gig, courtesy of Jolijne Viergever, will be on the site in the coming months, but if you are desperate to see them, do have look at Tony's MySpace
Tony has also played at various other events, a Testimonal Dinner for Richard Naylor from Ipswich Town Football Club, Em & Jase's wedding and several dates with the local bands he works with.
As I type this, Tony is playing at Ipswich Town Football Club as part of the resident Function band, Frisky.
There has been much interest in the Prince Tribute act that Tony is working with, they also have a MySpace and it looks like being a busy year for them. Do check them out if you like the music of Prince, the music is effectively recreated and Jimi who fronts the band is scarily similar in looks to the little man that is Prince and authentically recreates the huge sound of his voice. (Think Tony has a bit of a thing for working with very tall or very short folk :) )
I haven't been completely useless, as I have set up a MySpace for Tony, as you heard about above. I will even be uploading music onto it, once someone tells me how :)
Work has also finished on the building of his Studio and now he can get down to doing what he loves best, writing and recording music.
Talking of Tony's solo projects, we have it on reliable information that Tony's Piano album is now being played almost constantly backstage at the Theatre Royal Drury Lane by the cast and crew of The Producers. 'Can't get the bloody thing back of them!!!' says Mark. Thanks for this Mark, it is lovely to hear others are enjoying Tony's music. (Or is that enduring?)
The completed studio also means that he can start work on another project that he has wanted to do for a long time, so he won't be getting much rest over the coming year either. More details on this as they emerge.
Happy Christmas to you all and a Fabulous New Year.
With Love,
Diane & Tony T
Back to News Index
13/07/06 - May / June / July News
OK It's July and I am once again tardy in my reporting of TT's actions.
May saw a few more Fish gigs and lots more rehearsals for the local projects, several local gigs and some time at home :)
Work has continued on his studio and the two months culminated with a very successful appearance at Ipswich Music Day. Tony joins a handful of musicians who have played on 3 stages during the day and a great day was had by all.
July sees more learning of Fishy things and some rehearsals for the end of the Misplaced Tour.
I probably won't report anything else till September as both TT and myself are flat out over the coming months celebrating my small birthday, his even smaller birthday, Fish gigs, local gigs and hopefully lots of sunny weather.
TT says 'Be safe or be road kill'!!!!!!!!!!!
Back to News Index
01/05/06 - April News
As you have no doubt noticed, the website has had a facelift. Hope you like it, but all suggestions for improvement will be listened to (and then TT will completely ignore them!).
March saw lots more rehearsing and the start of work on Tony's studio.
April had more rehearsing, a couple of local gigs and then off to Haddington for work on the next leg of the Misplaced Childhood Tour with Fish.
On a more personal note, Tony & Diane had a Celebration of their Commitment over the Easter Weekend, which was a lovely event with Family and Friends. There was lots of live music, good food and a small amount of alcohol. Thank you to all of you who came and celebrated with us and helped to make it such a special and memorable weekend.
Tony returns in May to a very busy diary, more work on his studio and who knows, I may even manage to report it before July! :)
Back to News Index
26/01/06 - December / January News
Happy New Year to you all and we hope you all had the kind of holiday you deserved!
Well, the lazy git has done bugger all for weeks now, so he is off down t'pit as of tomorrow!!!!!!!
Seriously, having come back from a successful tour with Fish, Tony was straight into local work and did several gigs before Christmas and has been working on material for the new album since the New Year.
December also saw the release of a new project with his good friend Torchie under the project name of Catch the Madness and a new album called 'City Tales' is available to purchase at the very reasonable price of £10. Many thanks to Gray & Chris for their hard work in pressing the album and printing the artwork.
Fishy news is on the Perception of Fish website, but it looks like another busy year with the scaled one and hopefully that much promised solo mini tour may even happen.
Tony is on the move and will be living in Colchester from April, so he is also packing up his handkerchief of belongings and huge arrays of keyboards ready for the move.
So I suppose he has been kinda busy over the past few weeks!
Back to News Index
26/11/05 - November News
AHA! As my good lady has been extremely busy this past couple of months (end of year exams and a new executive job, taken to keep me in the manner to which I am becoming accustomed), I have steamed in and taken over!!!!
Well, the last section of Fish's ongoing Return To Childhood 2005 tour is still in progress with the Dutch leg (including gigs in London and Koln) just finished with the Paradiso date being recorded for a forthcoming DVD. Thanks to everyone who came to the last couple of batches of dates, especially certain ones (you know who you are!) who went to more than I did. No mean feat as I had originally planned to go to all of them. For some reason. Also Hi to all the new friends I've made in the U.K. and abroad in the past year it's been great to meet you!
As some of you are probably aware, I am supposed to have a solo career ongoing as well. At the moment I haven't had a great deal of time for that, with session work, function stuff (aaarrgghh!) and going off and skiving with some Piscine type chappie. However, writing for the new T.T. album "Broken Silence" is under way - not before time, some would say - and hopefully stuff should start being recorded early next year. I'm also currently negotiating a few dates for a short solo (ish - there may be an occasional helper) piano tour at some point in the first half of 2006; watch this space for further details.
In the meantime, Kroiden Mick has worked hard promoting stuff for me and deserves Huge Fanx. As a result, airplay for all my solo material has been gained on U.S. internet radio station Progressive Soundscapes and a couple of small European record labels have expressed interest in further releases. We shall see what happens.
For the moment, I'd best crack on with housework - that's what happens when someone works to keep you - and the writing! No doubt the regular editor will be back soon...
Back to News Index
05/09/05 - August News
Well, here we are nearly the end of August and only just got time to do the latest update.
Tony has been busy over the past couple of months with various Fish festivals and getting ready for the up and coming tour. Oh yes, and fitted in a couple of well deserved breaks. One to visit the families and one to sunny Mallorca!
July 22nd saw a special appearance with Songs from the Blue House for their album launch and much fun was had by all. Tony has also been working on a couple of band projects that will hopefully see the light of day before the year is out and looking at the possibilities of doing some solo gigs too.
September sees him off to Norway with Fish and October sees more of the Return to Childhood tour starting off in Scotland.
Needless to say that besides being very tired from all this work, Tony is having a ball as usual and looking forward to a very musical end of the year.
Back to News Index
10/05/05 - More April News, in May
As April started really well (playing at an intimate wedding for close friends Dave & Paula Booth with the Songs from the Blue House guys) it's good to see it has ended just as well in a different style with the Return To Childhood warm-ups!
Rehearsals went well, karaoke went even better - ask Fish about it sometime - and the hard work by the band appears to have paid off, as those who have been to the Fish gigs will hopefully testify! (I certainly will! R.) The UK leg of warm up shows ended in Liverpool at The Cavern and not only did the music get hotter, but so did the venues!!!! The bus got so hot it blew up before it reached Falmouth...
Early May sees a couple of days rest and then we're off to South America for a few weeks of fun. Oh, sorry, I mean work. Keep an eye on Fish's website for details of up and coming gigs over the coming year.
Back to the Guv'nor next time, just a short rant from me.
Back to News Index
11/04/05 - April News
I know, I know, TT promised that now he had a highly paid secretary that the site would be updated more frequently! Well, in true TT style, the wages are still due :) However, it is about time that I earned my keep and let you know what he has been up to.
January, saw TT mostly sitting on his backside and forgetting what a keyboard was! He tells me he was mentally preparing himself for the coming year... hmmm!
February, a trip to Scotland to work out the set list with Fish and also the start of a new project called Pop Up Karma, which is a local covers band with an eclectic range of music.
March and a slight nervous twitch of panic was becoming evident in his eyes as he realised that there was a LOT of work to be done if the forthcoming tour with Fish was going to sound anything like it is meant to! With some persuading (OK, with the withdrawal of all fun unless he worked) programming started and TT realised that he actually quite liked this stuff and more to the point, he could even play a bit of it.
April, full steam ahead and lots of programming later, TT is feeling a little less stressed and looking forward to rehearsing and taking to the road.
I will keep you informed of his exploits (well, the ones he won't mind his Mum reading about anyway :) ) over the coming months. D.
Back to News Index
06/11/04 - December News
November saw Tony out and about with his good drinking buddies the SKYLINE DRIFTERS in Holland and Germany. Everyone had a great time except Tony because he had to stay sober (he was driving). Unfortunately for the others, this means he can remember EVERYTHING (for once). His silence can apparently be bought though. Many thanks must go out to all the people involved in making all this happen, especially Mark, Mario, Jurgen, Wilco, Maurice, Dennizzz and Rich. And of course, the Drifters!
Just before the trip Tony had an hour long feature on Dutch radio, Radio WOS. This was something of a novelty for him, and we gather he obeyed the instructions of "talk lots" far too well. The programme only overran by 20 minutes.
Returning from the mainland, Tony took his place once more in Fish's band for the Progeny festival at the Astoria in London, topping a bill including Audience, Magenta and The Carl Palmer Band. He reliably informs us that this was one of the most enjoyable gigs he's ever played. Check Fish's website for reviews, and Big Hugs to everyone who was there and helped make it such good fun.
December means back to sessions, local gigs and remix work; and possibly the start of preparations for the 20th anniversary of 'Misplaced Childhood' tour next year? We'll see...
Back to News Index
04/11/04 - November News
October has been a busy month mainly because of attempting to finish the new piano album. In addition to this, there have been the usual quota of local gigs with fun band 'Stiff in the Morning' and a couple of bits of session work.
The new album will be titled 'Private Piano' and is currently away being pressed. Recording for it was finished only just prior to playing at the wedding of good friends Gray and Chris. In fact, one of the pieces on the new album was inspired by their asking Tony to play at their wedding. Proposed release date is 17th November 2004.
November will hopefully also see a promo single cd release. This will be a taste of what is to come on the forthcoming 'TT' album 'Broken Silence' featuring artwork by Mark Wilkinson. After a short trip abroad with both the Skyline Drifters and Mark Wilkinson to Germany and Holland and a festival date with Fish in London that pretty much sews November up as well!
Back to News Index
01/10/04 - October News
It won't take Einstein to work out that because of touring commitments to Fish, this site hasn't been updated for ages! Good job nobody reads it anyway...
Well, most of the recent news is good and constructive. Firstly, Hello and a big Thank you to all those I met on Fish's recent European tour and following festival dates for making them very special. More dates are coming in and being confirmed even as we speak, with one eye being cast firmly towards next year and the 20th anniversary of Misplaced Childhood. We'll see what happens.
Back from tour I received a call to go straight out and work with John Tonks, the eventual drummer from the band and ex Musical Director for the likes of Neneh Cherry and Tricky on some projects he has. This was followed by local session work, a Skyline Drifters gig in Knebworth (no rehearsal as usual), work for an outfit called 'Shev and the Brakes' at home and abroad, more gigs and some festival work with Fish in Switzerland, Holland, Malta and Italy. Phew!! It's hard to update these website things when you are not around... However, things should be a little easier on that front now as I have engaged a secretary, otherwise known as my girlfriend, Diane, to keep a check on stuff. Hopefully it shouldn't be neglected for anywhere near as long in the future!
The follow up album to Fragmented is now under way. This is going to be a piano album titled, aptly, "Private Piano". Ten pieces are currently scheduled for recording, nine originals and one cover interpretation. Five of the pieces are solo piano pieces, the others employing only one other instrument as well as. In one case at least that will be another piano! This should be completed ready for release by late October/early November and details of how to order will be available from this website.
Another project has also been started, looking towards next year. Going under the moniker of 'TT', it will see a development of the Groove style people may expect if they've listened to Plague Of Ghosts. It will also feature artwork by Mark Wilkinson and hopefully some of the talents of Frank Usher if feasible! Working title for the CD at the moment is 'Broken Silence'. There is also the possibility of a CD 'taster' single for this projected album later this year.
As well as this, it looks as though there will be some Skyline Drifters action later this year too. As a part of a couple of exhibitions being held in Germany and Holland of Mark Wilkinson's artwork at which the man himself will be, corresponding evening gigs are being arranged for the Drifters. Check out the Drifters website, Mark Wilkinsons website or the Company Germany or Holland sites for details.
Finally thanks to all who read the Licensing Bill messages and felt strongly enough about it to show their support by signing petitions and pressuring the government to take notice. The result was there were 11th hour amendments and backtracking to the point of a 'Government Musical Forum' being set up to help promote live music in the UK. Though there are still several silly anomalies which affect private functions and charity events it looks as though things may actually balance out in the end. Bless you all! The future is now brighter for music in this country.
Coming to a county near you soon
Back to News Index
18/10/03 - October News
One of these days I will actually start going online regularly. Unfortunately I'm lazy and I don't do that. Therefore this is the first time anything has been done to the site since June. And the first time I have been online in nearly two months.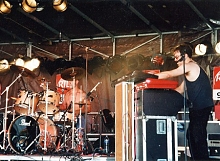 Since the last update the world has gone blancmange. The end of June saw me performing a full solo set in Burnham on Crouch, as part of the Riverfest Music and Entertainment Festival, and from there going straight over to France to gig with a full band in Arras as part of the French National Music Day Festival. Piccies can be found elsewhere on this site for anyone who is interested! The Burnham show went very well; this was the first time I'd been given the opportunity to do a full two hour show entirely of my own material. One might've expected pears to start taking shape, but no! Dragging along the inestimable Dave the Lighter and his imperturbable lighting rig, the idea was to attempt to put on some sort of show that was entertaining to watch as well as listen to. Bloody hard for a keyboard player to do as we are always stuck in one place. Hence Dave. He was an invaluable addition to the evening and managed to make me look fatter, more ill and much more menacing than I do normally. No doubt everybody there found this far more entertaining...
From there, with the invaluable help of Tony and Sue (thanx guys!), I was packed up and whisked off to France to meet up with the band and get pissed………. Er, I mean gig some of my material with a full band. First opportunity to do that as well! Get pissed I meant, obviously. (There are such things as fraud and libel laws you know – Ed.) Whizzing back from there I launched into a frantic local work schedule, from doing session work to going out and doing gigs with a Country and Western band! Yeeha. But nobody gives a toss about any of that, anyone who is reading this will only be interested in what has happened in the last month...
In response to a request from the Scottish piscine one through Judith Mitchell, I was put forward to help him out of a sticky situation when his keyboard player unexpectedly resigned half way through the new album project. This resulted in a few phone calls being made to sort out the details (contrary to popular opinion we had sorted out our differences when we met at Mark Wilkinson's 50th birthday party last November) and in me going up to do my first stint of recording and writing on the new album 'Field of Crows'. Two new tracks have been co-written with Fish for this and we're all back up there in October to continue work on the project. Further bulletins on the BSG's website!
You can now all send in messages telling me exactly what you think BSG stands for...
Back to News Index
07/06/03 - June News
What's happened with the time? I think I blinked because the last 3 months seem to have gone by without me realising it. In that space of time there have been a few session slots, a few depping slots, amongst whom we can number doing stuff with Mick Abrahams, the original Jethro Tull guitarist, and various other local gigs including a highly enjoyable local radio slot and gig with a country&western band at the Wolsey Theatre in Ipswich. You may scoff! They went out to prove that country could rock and rock could country. I certainly don't have the same impression of country music as I did before, but that could be to do with what outfit I had to wear…
But we don't give a toss about any of that now, as it's all in the past. The main thing is we have been given a slot at the Burnham Festival. To anyone who lives outside the area, which is probably all three of you reading this, this is an event that takes place, unsurprisingly, in the town of Burnham-on-Crouch in Essex. Gigs and events are spread over the space of June, culminating at the beginning of July. On Friday June 20th, the festival organisers, mainly in the shape of a gentleman by the name of Tim Aves, have been foolish enough to book myself in for a whole evening of torture! Two whole hours to play with myself on stage!!
We are however, aided and abetted on this evening by our very good friend Mr Dave the Lighter. If anybody has clicked on the links page to Sad at the Clinic, then they will be familiar with this man's abilities. For those who aren't, suffice to say he is a lighting man without peer (or should that be beer?) and a damn good singer too. However, it is entirely down to this singing ability that you won't be hearing him on the 20th, as I will be damned if I am letting anybody put me to shame on my evening to myself. J
So where is this evening of madness taking place? For those who wish to avoid or know better, it will be at the New Welcome Sailor pub, New Station Road, Burnham-on-Crouch. Start time I am not yet certain of but I am assuming it will be around 9pm. Alternatively, you could just stay in and wash your hair.
The whole festival itself, now coined the Riverfest, is a huge collection of events put together by the tireless efforts of many people but brought together by main co-ordinator Tim Aves. Throughout the course of 5 or so weeks many events are staged; for a full listing of what's on, check out the website at www.burnhamfestival.com. In addition to his very busy and demanding role in putting this together, Tim is also one of the lead vocalists and harmonica player in the excellent and very highly respected Rockin Armadillos blues band, who I have been fortunate enough to dep with. These have gigged all over the country and featured on Paul Jones Radio 2 Blues Show, and contain two of the greatest young blues guitarists you will ever hear in the shape of Alex Hall and Owen Barry. The whole band happen to be bloody nice folks, too. Check out their website or (or? AND!!!) go and see them play. Well worth watching.
Immediately after the Burnham date I have got to rush over to France where I am playing with a couple of bands at the music festival in Arras. This would seem to be quite a large event with nearly 10,000 people expected to turn up. One of the bands is having to play some of my material, as they haven't got anything better. Shame! Should be fun as I am also gigging with the country&western band on the same night!
The weekend after that (Sunday June 29th) sees a gig at the local Ipswich Jazz club as part of a Hammond Jazz (and Rock - I'm there) night. Four organists will be putting the newly recreated Hammond B3 through its paces; the others in the forms of Dave Templing, Ray Mitchell and Rob Butler are all superb players. I'm not quite sure where I fit in here……… Anyway, Dave, being the proprietor of Haven Keyboards (and my occasional boss!), is hoping to have the aforementioned keyboard in the shop for a few days before. An "open evening" will be held with drinks and nibbles at some point to give any interested parties the chance to see, hear and even try the new beast up close; for details contact Haven Keyboards on Ipswich (01473) 710051. I'll be there helping and getting drunk.
On a final note, the live music debate is still ongoing, with the Government still seemingly intent on strangling any form of entertainment by making everybody pay for the "privilege". Please show your support for the sane uncorrupted majority by signing whatever appropriate petitions are raised (details elsewhere on this site) and by going out to see some live music and having a thoroughly enjoyable time. If Kim Howells has his way you may not be able to do that legally for very long. Take note of the warning - the threat IS as serious as that.
Time to go and do some yee-ha learning…
Back to News Index
01/03/03 - Tour Thoughts
Well, the tour slots have been and gone and damned good they were too! A very big Thank You must go out to John Young and his team for letting me go out and do those shows with them. I had a great time! Whether anyone else did, audience included, is another matter.
They started at The Brook in Southampton and I found it to be a very odd experience to begin with. I'm not used to being onstage on my own! This is a very difficult feeling to overcome, as John Young himself agreed when I was chatting to him at the end of the evening; to make me feel no better whatsoever, he told me that he still found it just as difficult after doing it for some time. Stirring words of encouragement! However, the whole entourage was an easy thing to work with as it involved many familiar faces; Dave Squeeky Stewart on drums, Robin Boult on guitar, John Jowitt on bass, Andy Williamson doing sound and a certain Adrian Holmes of the Skyline Drifters in charge of everything and everyone. Just like Old Home Week!
The following night was at The Flowerpot in Derby, a slot which I was sharing with Dave Booth of Springettbooth. Instead of the minidisc drum backing I was doing on the remaining dates, we went totally acoustic on this one - piano, acoustic guitar and two vocals only, please! I have to say that this was my favourite support gig mainly because of Dave; I was far too busy laughing and having a good time to remember what I was playing!
The remaining dates were back to me own sweet (!!! We think not! Ed.) self. And I have to say I thoroughly enjoyed them, despite having technical problems on the last one at Stourbridge Rock Café. But then a bad workman always blames his tools……….
You can read a review from the Southampton date of the tour here.
Back to News Index
01/03/03 - The Licensing Bill
One thing to mention here, on a serious note. I was supporting some of the finest musicians in the country (the drummer's not bad either), and yet they proved just how far the music scene has sunk in this country as they told me how difficult it had been to secure gigs. In these days of wall to wall tribute acts, venues seem to be scared of the idea of putting on original music, especially original music that may not be considered as being fashionable (JY has some amusing stories about attempts to get gigs - check out his website). A very big hand to the venues who were brave enough to do this - an even bigger hand will go to the ones who will do it again. However, it's not that there aren't people out there who like music and who it means something to; rather that nobody seems to be exposed to this anymore. The same few singles are played every show on the radio selected by computer, and everything is too money motivated with no thought for the future. We hear the same things over and over again with very little diversity. A business it is called and therefore money must be involved but without forward investment and new Original stuff in a few years there will be no acts to be tribute acts to. And then where will we be? John Young has made it a personal mission to do things the old way, get out and play and prove to people there are original acts out there worth seeing. This is something that I think all ought to be supportive of, regardless of whether you are a fan of the music or not. Think of your own favourite acts and the things that move you in music. How stale will things feel with nothing new in similar areas?
Whilst I am on the Impassioned Diatribe Soapbox, I must mention that a lot of my time recently has been spent trying to organise opposition to a totally ludicrous Licensing Bill regarding the restriction of playing music that our blind and autocratic government in the UK has seen fit to try and introduce. This, if not opposed could lead to matters going as far as schools needing an expensive license to rehearse a nativity play, carol singers in a shopping mall being in breach of law as they will be performing without a license, and even, under the current ambiguous wording, people practising guitar in their bedroom being in breach. All of these could be subject to penalties of up to £20,000. That does not even touch on the restrictions that would end up being imposed on ANY band that attempts to go out and play live. There are postings on this matter elsewhere on this site for people who are in the dark about it; the important thing to do at the moment is make your voice heard in protest. You can find links on the information posted elsewhere on this site to online petitions; if there enough voices making politicians feel uncomfortable about it we CAN make a difference. Don't stay silent on this!
Phew! Longest posting I've ever done! I must've been wound up :-)
Message 1
Message 2
Message 3
Message 4
Message 5
Message 6
Message 7
Back to News Index
13/01/03 - JY Band Tour and Other News
Roll on 2003!

Well, first news of the year is that I have some support slots. The multi-talented John Young is off on tour in January and February with a cracking band that includes some old friends (Dave "Squeeky" Stewart and Robin "Robin" Boult of Fish history) and a sound man from a similar stable (Andy "Elvis" Williamson); my support dates have been confirmed as:

| | |
| --- | --- |
| Thur Feb 6th | The Brook, Southampton |
| Fri Feb 7th | The Flowerpot, Derby (with David Booth) |
| Sat Feb 8th | The Astor Theatre, Deal |
| Thur Feb 13th | The Rock Cafe, Stourbridge |
The February 7th date sees me reuniting for a one off gig with David Booth of Springett Booth fame; Springett Booth were originally offered this slot as Dave is a Derbyshire boy but Sarah Springett couldn't make the evening so the slot was offered to me instead. However, Dave and myself thought it would be good fun to see if he could learn any of my stuff and if I could remember any of his. And if you come along to Derby you'll find out how un/successful we've been. You have been warned.

The Derby date will be an acoustic support - piano, acoustic guitar and vocals and that's all, folks - but on the remaining dates I've gone for the programmed rhythm backing (a little a la old JY solo) with a few more bits of kit. Regrettably not all of it and certainly no Hammond organ due to some spurious and highly unreasonable comments from the John Young Band about them not being able to fit on stage if I used that as well. How selfish can you get?...

On a more local front, I seem to be standing in or working with a lot more bands this year than last. Frisky, the girlie led covers band that features guitarist Jon Miller and vocalist Jules Shevlin, the person I regard as being the finest singer I have ever had the pleasure to shout at (she needs keeping in check), seem to be getting lots more work in. Unfortunately the drunken debauchery that was promised to lure me into the band in the first place doesn't seem to have materialised yet. We live in hope... In the meantime a couple of other local acts have asked me to help them out for a similar reward, so I'm going to check them out and see if they're liars too.

Jules is a person I fully intend doing more work with (she's cheap), and it would appear that after 13 years Jon Miller is finally getting his act together to do a solo album for which he's asked me to play on because he doesn't know anyone else. And I suppose I'm cheap, too. I really ought to get on with that TnT album now...

Hope to see you on the tour; for a full listing of John Young's dates, check out his website.

Back to News Index
28/11/02 - Upcoming Gigs and Frisky
Gigs are being booked for next year as we speak. I've also started playing fun gigs with a local covers band called Frisky, doing anything from Sheryl Crow & Alanis Morrissette to Blondie & Republica.
Back to News Index